An Explanation of "Electric Range"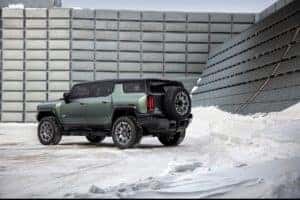 As they look over vehicles like the GMC Sierra 1500, GMC Canyon, and GMC Acadia in our new car inventory, many drivers do more than take note of electric vehicles like the GMC HUMMER EV. Rather than making a mental note to inquire about EVs, interested motorists normally ask a bunch of questions about them.
Drivers often contact our Dearborn, MI GMC dealership to inquire about the meaning of electric car range, for example.
Breaking Things Down
New GMC models all have a rating that indicate how far they can travel between "fill-ups" regardless of whether they rely on gas or electricity to accrue mileage. For EVs, the predominant rating comes from the Environmental Protection Agency. The combined range published by the EPA is the one you'll see most often in vehicle reviews and on window stickers.
When you contact or visit LaFontaine Buick GMC Dearborn, our team will explain that EVs also have range ratings for city and highway driving. Unlike the mileage ratings provided for gas-powered vehicles, most EVs have a higher range rating for city driving instead of highway motoring. That's largely because EVs are able to recapture energy when they're driven in low- and variable-speed settings.
Electric Car Range vs MPGe
Whereas electric range refers to the distance an EV can travel between charges, MPGe is a measure of the car's efficiency. As you view the all-electric vehicles in our new car inventory, it's important to keep the difference between range and MPGe in mind.
MPGe is shorthand for "miles per gallon equivalent." That means it's a measure of the distance an EV can travel consuming just 33.7 kWh, which is the equivalent of the amount of energy contained in one gallon of gas.
An EV's range doesn't account for charging losses, but MPGe does. When you charge an EV, about 85 – 90 percent of the electricity drawn from a power source winds up in the automobile's battery pack. Since electric range only accounts for an EV's power consumption, it doesn't bother with charging losses. With MPGe being an expression of an electric car's efficiency, charging losses are part of the equation.
Now that you know what electric range is and isn't, you might be interested in buying an eco-friendly EV. If that's the case, we invite you to visit our GMC finance center to discuss buying or leasing a GMC EV today.