Ask LaFontaine Buick GMC of Dearborn: What Affects the Range of an Electric Car?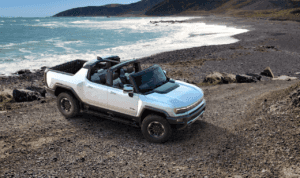 If you've ever wondered what affects electric car range, you'll find answers from our local Buick dealers. We're happy to discuss the topic with you, and the important factors involved.
Battery Capacity
The most important determiner of range in a GMC Buick EV is the capacity of its lithium-ion battery capacity. This capacity, which is expressed in kilowatt hours (kWh), is similar an importance to the size of a fuel tank in a traditional combustion-engine automobile. In an EV, the level of energy available to an EV is directly related to the battery's size.
Battery Wear
A second determining factor of electric range is the age and condition of the battery. Advanced lithium-ion technology, coupled with consistent inspections from our service and GMC parts pros, ensures that your car's battery will last for several years.
However, over time and as the result of successive charging cycles, battery capacity will gradually diminish, and with it the range of the electric car.
Vehicle Weight
The heavier the car, the more energy is needed to move it, and the less range the car offers. For example, if you have four passengers in the car, or a heavy load in the trunk, you'll have less range at your disposal than if you were driving alone.
For experienced EV drivers who embrace a smooth driving style, the impact of weight can be minimized. However, drivers that indulge frequent accelerations – especially at high speed – will see more noticeable effects.
Road Topography
Road topography, like vehicle weight, has an easily understandable effect on electric range. For example, if you test drive an EV at LaFontaine Buick GMC of Dearborn and stick exclusively to flat roads, you'll enjoy better range than you would if you were going up and down a series of hills.
The steeper the incline, the more energy is required, especially at a high speed. Thankfully, every EV features regenerative braking, which allows the vehicle to recapture some of the energy expended and reuse it, thus boosting range.
Buy an Electric Vehicle Today
Our nearby GMC dealership offers an excellent selection of EVs and some of the best Buick financing in Michigan. Visit us today to explore our inventory, take a test drive, and learn more about electric car range.