Common Questions About Oil Changes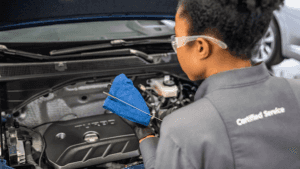 Both new and seasoned drivers often have questions about an oil change. Even though getting your oil changed is one of the most frequent routine maintenance tasks you'll need to schedule, people sometimes seem mystified by this service. With that in mind, we thought it would be a good idea to put together a list of questions that will help area drivers understand this type of service better.
How Often Should I Have My Oil Changed?
The old rule of thumb was to schedule an oil change every three months or 3,000 miles. Today's cars can often go longer and farther between oil changes, however. To see when you'll need to bring your vehicle to our Dearborn, MI GMC service center for an oil change, consult your owner's manual.
When Should I Have a New Oil Filter Installed?
You should always have a new oil filter installed whenever you get an oil change. As your motor oil becomes sludgy over time, it clogs your oil filter, which becomes powerless to stop damaging debris from reaching your engine. For this reason, you should swap out your oil filter as often as you change your oil.
Why Can't I Just Top Off My Oil?
Being a Michigan GMC dealer, we strongly encourage you to top off your oil if you're in an emergency situation and your reservoir is low. Topping off the reservoir isn't the same as your car getting a full infusion of fresh oil, however.
When you add new oil to old oil, they mix together, which prevents the new oil from working as effectively as it should.
Is It Better to Siphon or Drain Old Oil?
Drivers who change their own oil sometimes ask this question when they visit LaFontaine Buick GMC Dearborn. Traditionally, oil has been drained out of cars using nothing more than gravity. In recent years, some people have started siphoning their old oil using a method and equipment that were adapted from the boating industry. While the debate continues over which method is best, all automotive experts agree that regular oil changes are an absolute must.
Where Can I Get the Supplies Necessary to Change the Oil in My Car On My Own?
If you're a do-it-yourselfer, you can pick up all the supplies you need to change your oil in our conveniently located GMC parts center.