Do Electric Vehicles Retain their Value?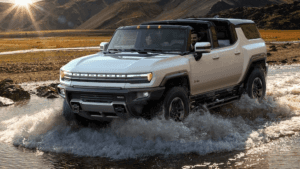 One of the most persistent lingering questions surrounding our new frontier of cars is if electric vehicles retain their value. The simple fact of electric cars not being on the market for very long provides a few options for comparisons. However, initial research is starting to emerge.
Some early reports show electric vehicles with a much worse resale value than a conventional, gas-powered car. Important context can explain this phenomenon and help you decide if an electric vehicle from LaFontaine Buick GMC Dearborn is right for you.
What is Depreciation?
To understand resale value, first drivers must grasp the idea of depreciation. Depreciation calculates the rate your vehicle is losing its value. All goods have a rate of depreciation, from your vehicle to your house and even furniture.
Depreciation is determined by subtracting the salvage value of an item, for example a GMC Terrain, by its cost. The salvage value is the money you could expect to receive from insurance if the vehicle is totaled, for example.
How does this Impact Electric Vehicles?
Electric vehicles rank lower than gasoline-powered vehicles in resale value. Several factors affect the depreciation of electric vehicles to drive their depreciation below the already famously quick rate of depreciation for cars in general.
These eco-friendly vehicles begin at a higher price point than comparable conventional fuel versions of the same car. Most electric vehicles qualify for federal and state incentives to help drivers save money, but this was not factored in when calculating rate of depreciation.
Because electric vehicles rely heavily on a single battery-powered motor, the major component of an electric car wears out more quickly than a gasoline-fueled engine. This deterioration and required battery service also reflects poorly on the depreciation rate of electric vehicles.
So, do Electric Vehicles Retain their Value?
While the depreciation rate of electric vehicles can appear unfavorable, other factors help boost the value of an electric car. The lack of major and expensive car maintenance and freedom from gas prices contribute to the value of an electric car.
Still have questions about electric cars? Visit our Dearborn, MI GMC dealership to learn about our entire line-up of exciting Buick and GMC vehicles.