EV Charging Station FAQ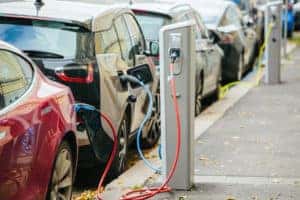 If you've waited to buy an EV because you're worried about finding the nearest EV charging station, you should know that they're more common than you might realize. You should also know that LaFontaine Buick GMC Dearborn is standing by to help with the learning curve that comes with a switch to electric vehicles. In fact, let's start by answering a few common questions.
Where can I find an EV charging station?
Remember, there are three levels of charging, two of which can easily be taken care of at home. Level 1 charging uses a common plug and 120V current. Level 2 charging uses 240V current; we encourage you to have a home charging station installed for this purpose.
Level 3, or DC fast, charging uses direct current at public charging stations. You can use the myGMC® Mobile App, or the in-vehicle Energy App installed via the infotainment system in your GMC Hummer EV, to show charging levels, current available range, charging schedules, and locally available fast chargers.
Can I use any EV charging station?
Most charging stations, including common options like Electrify America and ChargePoint, support most EVs. The exception: for now, Tesla charging stations support only Tesla vehicles.
What does it cost to use an EV charging station?
Most EV charging stations have a nominal activation fee, plus a cost per kilowatt hour. This varies based on current utility fees, but it's still much less than the cost for a tank of gas.
Can I leave my EV plugged in?
You can. Most EVs have power management features that prevent overcharging and the damage that can accompany it.
Does cold weather influence charging?
Cold weather inhibits battery discharge. Furthermore, Michigan winters mean using heaters, defrosters, heated seats, and other amenities, depleting your battery faster. You may find you're charging more frequently in colder weather because of these factors.
That sounds promising. Where can I find a new EV in Dearborn?
If you're ready to ditch the gas pump, it's now easier than ever. Thanks to a growing number of options at our GMC dealership in Dearborn, it's about to get even easier.
The GMC Hummer is currently available, and orders open soon on the GMC Sierra EV, as well as the first of many Buick EVs. Ask your GMC dealer about GM finance offers, plus available federal, state, and local incentives designed to help you bring home an electric vehicle or PHEV.