How to Maintain Your EV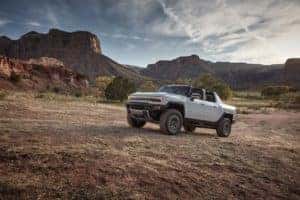 One of the best aspects of choosing to own an electric vehicle (EV) is the significantly reduced burden of EV maintenance when compared to maintenance required for a traditional gas-powered vehicle. Say goodbye to oil changes, fluid flushes, and transmission service!
Instead, EVs require different maintenance tasks, done on a simplified timeline. Allow the team at LaFontaine Buick GMC Dearborn to give you an example of what a potential service schedule for an EV looks like.
Monthly
A couple of quick tasks are recommended for EV owners to perform each month. Check tire pressure and refill tires as needed. Examine the tires for excess wear or other issues. Refill windshield wiper fluids or swap out for seasonal windshield wiper fluids.
Every 7,500 miles
Check your tires every 7,500 miles. Schedule a tire rotation and comprehensive inspection once you reach this milestone.
Inspect brakes, steering, drive shafts, suspension, and coolant levels. Signs of wear, leaks, or cracks can appear every 7,500 miles.
Every six months
Give the underside of your electric vehicle some attention about twice a year. Spray the chassis and remove corrosive materials like salt or sand that can collect underneath. Doing this simple task will help reduce rust and prolong the longevity of your vehicle.
Replace windshield wipers and cabin air filters about every six months, or more as needed. These simple tasks promote safety for drivers, passengers, and pedestrians.
Battery
One of the most important EV maintenance tasks, specific to these vehicles, is maintenance of the EV's battery. As the primary source of power for the vehicle, these batteries will eventually wear out. The first sign your car's battery may be degrading is it will fail to maintain a full charge.
The common life span for an electric vehicle's battery is still too soon to tell. It appears to take several years for these batteries to eventually fail and the process happens gradually. Eventually EV drivers will need to replace the battery or trade in the vehicle.
The team at our Dearborn, MI Buick dealership understands best the concerns about EV service and maintenance for people in our community. Contact our team of Buick dealers to learn the ins and outs of electric vehicles.