Is It Possible to Switch from a Lease to an Auto Loan?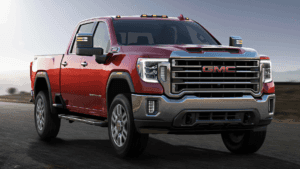 If you visited our GMC finance center in recent years, signed a GMC lease at that time, and have subsequently fallen in love with your leased vehicle, you might be curious about whether it's possible to switch from a lease to an auto loan. A car loan for a leased automobile is what's called a lease buyout, and we can assure you that it's a real option for lessees.
An Explanation of Lease Buyouts
When lessees contact our Dearborn, MI GMC dealership, they sometimes ask us what a lease buyout is. A lease buyout is exactly what its name implies – an arrangement in which a lessee buys their leased car. While a lease buyout typically involves a lessee taking out a car loan, it is possible for the person to pay for their vehicle with cash instead of financing it.
Whether you take out a loan or pay for a leased vehicle upfront, the buyout price will be based on your car's residual value. The residual value is the future purchase amount that was determined at the time you signed your lease contract. Also known as the buyout amount or purchase option price, your car's residual value is the predicted value of your vehicle at the end of your lease.
Factors to Consider
Did you lease one of our new GMC models like the GMC Yukon, GMC Terrain, or GMC Canyon and now want to purchase the automobile? If so, there are several things you should consider before you commit to that course of action, such as:
Value of your car in its current condition
Penalties you'll have to pay for excess mileage or wear and tear
Mechanical history of your vehicle
The team at LaFontaine Buick GMC Dearborn has an example or two that will demonstrate why it's important to consider the things listed above. Let's say the residual value of your vehicle is $15,000, but you'll owe $3,000 in penalties at the time you plan to finance your leased car. The market value of the car is the same as its residual value and you've kept up with your car's recommended maintenance.
In the scenario just described, it makes sense to proceed with a lease buyout because you'll sidestep the $3,000 you owe in penalties. If, however, the market value of your automobile was just $10,000, it would make more sense to buy or lease another car.
Are you going to move forward with a lease buyout? Apply for GMC financing now!