LaFontaine Buick GMC of Dearborn Answers a Popular Question: Are Electric Vehicles Safe?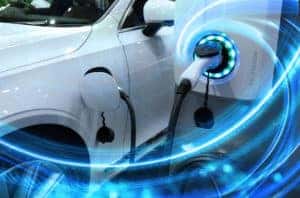 With electric vehicles (EVs) growing increasingly popular at our nearby Buick showroom, one question comes up more than most: are electric cars safe? The answer is yes, and there are two key categories of interest that we can point to.
Flammability
The EVs sold at LaFontaine Buick GMC of Dearborn run on lithium-ion (Li-ion) batteries, which are flammable. However, the likelihood of a fire occurring is incredibly minimal. In fact, millions of products (including computers and phones) use Li-ion batteries safely every day.
While it may sound surprising, Li-ion batteries actually pose less of a risk of fire than gasoline. Whereas gasoline is far more prone to fire and the rapid spread of damage, any flames elicited by an EV battery are contained in a small area and easily extinguished.
To make things safer than ever, the latest EVs at our nearby Buick dealership also utilize a protective cooling layer that surrounds the battery, similar to how a radiator protects a combustion engine. And if somehow the batteries still manage to overheat, they are installed as an assortment (rather than one large pack) and divided by firewalls.
Collisions
EVs are comprised of the same high-quality materials as the traditional gas-powered models in our inventory. Only the finest sheet metal and genuine GMC parts are used in their construction. Moreover, EVs integrate external aluminum plating that surrounds the battery array, ensuring an additional layer of collision and fire protection between the battery and the passengers.
In collisions involving electric vehicles, the NHTSA concluded that the chances of the occupants getting injured are lower than for vehicles that run on gasoline and diesel engines. Also, in the event that you do get into an accident while driving an EV, you'll find that its maintenance and repairs will be cheaper because EVs use less parts than traditional combustion-powered vehicles, meaning there's less to fix or replace.
Buy a Quality EV Today
EVs are already some of the safest automobiles on the road, and they're only getting safer. Visit us today for an up-close look at our inventory and a test drive, along with terrific GMC financing.