Need Battery Service? Visit us at LaFontaine Buick GMC Dearborn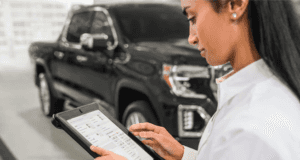 You might not think about it right away, but your car's battery health is extremely vital to almost all of the functionality of your vehicle. If you begin to notice signs of damage to your battery or notice that your car just isn't running as well as it used to, it could be time to visit our service center for battery service.
If you're looking for expert service to regain your peace of mind, visit us today at LaFontaine Buick GMC Dearborn.
Knowing Your Battery
Signs of Battery Damage
 Dim lights
 Visible damage to battery
 Engine won't crank
 Ignition won't work
 Starting is slower than normal
Proper function of your car's battery is essential since it's what powers all of the electrical components in your vehicle and keeps them running safely, such as your starter and headlights. If your battery starts having issues or becomes damaged, not only can it prevent your car from starting entirely, but it can damage your entire engine if left unfixed.
It's important to pay attention to the warning signs that your car gives you and visit our GMC dealership to receive service as needed.
When to Service with Us
A good rule of thumb to follow is to replace your car battery every five years if there are no issues that arise, but regular service is often needed the older your car is. If you normally drive through abnormal conditions such as extreme cold or intense rain, you could be more susceptible to damage.
It doesn't matter if you're driving one of our GMC trucks or a Buick Encore GX, your battery is absolutely vital to keeping your drive safe and you need to look out for danger signs that may cause future damage if left unaddressed.
We offer battery tests with all of our routine maintenance checkups, but if you're concerned about something specific make sure to stop in sooner and mention it to our technicians so it can be safely fixed.
Service Specials
At LaFontaine Buick GMC Dearborn, we have a range of rotating specials that you can take advantage of when visiting us for service
Visit LaFontaine Dearborn for Service
All of the vehicles that we offer at our dealership use OEM Buick or GMC parts, so you know that you're getting top quality no matter which vehicle you have.
Even still, we understand that things go wrong over time, and you'll eventually need to return for battery service. When you do, you'll get high-quality service from our factory-trained professionals who are here to help no matter what!