Oil Change Service in Dearborn, MI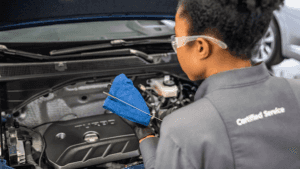 Oil changes are one of the most important parts of basic maintenance you'll need to address when it comes to your car, truck, or SUV. Motor oil lubricates and cools fast-moving engine parts allowing your vehicle to run properly.
If you're in need of an oil change, you can't go wrong with service center at LaFontaine Buick GMC Dearborn. Our service techs will get you get you a quick oil change and address any other car issues you might have.
When to Get an Oil Change
One of the most common questions we get is 'How often should I change my oil?'
The answer depends on a few factors. On average, drivers should get an oil change every 3,000 miles or every six months (whichever comes first.) This can vary based on your driving habits, the age of your vehicle, and even the kind of oil you use.
Most new Buick vehicles can safely go a little longer between changes, but older vehicles will likely need an oil change more often. If you're not sure, ask our team of qualified Buick technicians who are happy to help you.
Choosing Motor Oil
Wondering if you should choose synthetic or conventional motor oil? You've come to the right place.
Conventional oil is made from petroleum or crude oil and then refined. It's usually the most affordable stuff on the market but may contain impurities. That means it's not a great choice during extreme temperatures.
Synthetic oil, on the other hand, has been chemically engineered to contain fewer impurities. While it performs better during extreme weather, and is a much better choice for high-performance vehicles, it's also far more expensive than conventional motor oil.
If you're not sure which to choose, just ask our experts here at our GMC dealership in Dearborn, MI. Our service center offers both types of motor oil and we're happy to offer our recommendation.
Oil Change Offers in Dearborn, MI
LaFontaine Buick GMC Dearborn offers competitive prices on everything from oil changes to brake service and tire repair. If your vehicle needs service, we highly recommend you check out our Buick service center page, where you're sure to find some excellent money-saving incentives.