Things to Know When Shopping for Used Cars at LaFontaine Buick GMC Dearborn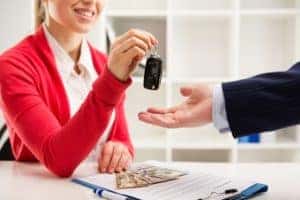 No one really wants you about how much time, energy, and research can go into purchasing a car. It can be tricky making decisions on which model to get, which features to prioritize, and whether to look at new or used cars.
We're here to take you through four essential tips to keep in mind while you're searching the used-car inventory here at LaFontaine Buick GMC Dearborn.
1. Take the Features you want into Consideration
Before stepping foot into our dealership, determine which safety and technology features are essential to you when getting a new vehicle. This can be anything from integrated navigation to towing capabilities.
While there's no guarantee that you will get all of your top features, it could be more likely than you think! Plus, you can always order GMC accessories right through our dealership when you want to upgrade.
2. Consider Certified Pre-Owned (CPO) Vehicles
If you are a little bit hesitant about getting a vehicle that had a previous owner, consider searching our selection of Certified Pre-Owned vehicles. In order to earn the CPO title, these vehicles must meet manufacturer standards by passing rigorous inspections. It's essentially as close to buying new as you can get, but at a pre-owned price.
3. Research Vehicle Pricing
Once you have a vehicle model in mind for what you like to purchase, it can be beneficial to look up the pricing of similar used vehicles. Knowing the MSRP of its new counterpart can also help you determine the range of the cost for the vehicle.
Keeping all of these numbers in mind can help once you start the negotiation process. Once you're ready to purchase, our dealership can even help you with GMC financing based on your unique lifestyle and budget.
4. Pre-Owned Vehicles can be a Great Investment
For drivers interested in reselling their vehicle, there's no better option than buying used. The value of a new car plummets the second it's driven off the lot, but you can retain the value of a used car for much longer, especially if it's kept in good condition. Reselling is an excellent option for drivers who may not use their vehicle very often or who would want to upgrade sometime in the near future.
Visit LaFontaine Buick GMC Dearborn today with any further questions you may have about purchasing used. We can even set you up with a test drive in one of the used vehicles already on our lot. Our whole staff is excited to help you in your car-purchasing journey!