What are 3 Charging Levels for Electric Vehicles?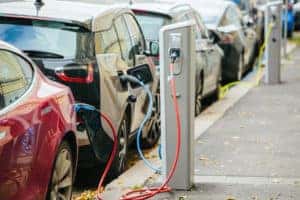 When you look over vehicles like the Buick Encore, GMC Acadia, and GMC Sierra 1500 at LaFontaine Buick GMC Dearborn, you probably think about all the things you can do in a new SUV or pickup. While you can certainly do a lot in a gas-powered automobile, you can do even more in a GMC electric vehicle.
All-electric vehicles like the GMC Hummer EV allow you to do all the things you can do with a gas-powered automobile while you simultaneously shrinking your carbon footprint. With the number of EV charging ports growing., going green is more convenient than ever.
Three Levels to Charge an EV
Our team of GMC dealers are familiar with the charging options that are available for EVs. Currently, there are three ways to charge an EV's battery, they are:
Level 1 charging
Level 2 charging
DC fast charging (Level 3)
Level 1 Charging
This type of charging refers to powering a car's electric battery using a standard 120- volt household outlet. In general, EVs come with a mobile charging cable that's compatible with the outlets found in most homes.
Also known as "trickle charging," Level 1 charging is the slowest charging option. An EV will typically pick up two to five miles of range for every hour of Level 1 charging. That means your EV will pick up 20 – 50 miles of driving range if you charge your car for 10 hours.
Level 2 Charging
Drivers who visit LaFontaine Buick GMC Dearborn often ask us if there's a faster way to charge an EV. That's when we tell them about level 2 charging, which employs a 240-volt outlet.
All EVs are compatible with level 2 chargers. These are the chargers that are readily available at public charging stations.
DC Fast Charging (Level 3)
Also known as Level 3 charging, DC fast charging is the quickest way to charge an EV's battery. Whereas Level 2 charging normally adds 10 – 25 miles of driving range per hour, DC fast charging can bring an EV up to 80 percent capacity in as little as 15 – 45 minutes!
The experts in our GMC service center want you to know that 80 percent capacity is the ideal charge to prolong the life of your EV's battery. Bringing your battery up to a full charge consistently can damage the unit, so it's wise to only charge up to 100 percent if you're planning an extended road trip where charging stations are few and far between.
Want to learn more about EVs or the charging levels? Visit our GMC finance center today!