What is a Vehicle Inspection and Why Do You Need It?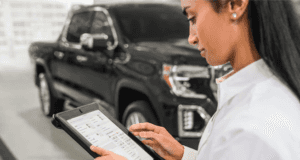 The team at LaFontaine Buick GMC Dearborn are experts when it comes to providing exceptional auto service for your Buick or GMC vehicle. Our service center can also assist you when it comes time for your vehicle to require an inspection.
Whether you need a state mandated safety or emissions inspection, or if you just want peace of mind that your vehicle is operating correctly, we can help you address all of your concerns.
Safety Inspections and Emissions Testing
Generally speaking, a vehicle inspection examines and scrutinizes your car to make sure that all of the systems and parts are operating correctly without any safety defects or flaws. Some states have mandatory safety inspections, and if your vehicle fails the inspection, then you will have to pay for the necessary repairs until your vehicle can pass.
Currently only the following states require inspections:
California
Colorado
Florida
Indiana
Idaho
Illinois
Kansas
Kentucky
Maryland
Nebraska
Nevada
New Mexico
Oklahoma
Oregon
Pennsylvania
Rhode Island
Vermont
Washington
Wyoming
Some states also require an emissions test, which measures how many pollutants your vehicle outputs. Currently 35 states require emissions testing, while Alaska, Arkansas, Iowa, Minnesota, Montana, South Carolina, and South Dakota do not.
Multi-Point Vehicle Inspections
In addition to routine services such as battery replacement, oil changes, and tire rotations, one of the services we offer is a multi-point inspection. This highly detailed, thorough, and comprehensive assessment of your vehicle will identify areas that are in working condition, may require attention soon, or in need of immediate attention.
During the inspection, our technicians will take a look at your OnStar diagnostics, engine oil & filter, lights, tires, windshield wipers, and many other systems and vehicle components for possible problems and issues. Once the inspection is complete you will receive a detailed report of our findings, and alert you to any necessary repairs.
Schedule Your Vehicle Inspection
If your vehicle inspection sticker is about to expire, or if you want to check the status of your vehicle, the LaFontaine Buick GMC Dearborn service center can inspect your vehicle with ease and efficiency.
Visit our website to schedule a vehicle inspection or any kind of routine service or maintenance your vehicle may require. We want to make sure your vehicle is running smoothly, safely, and competently.