What You Need to Know About Car Inspections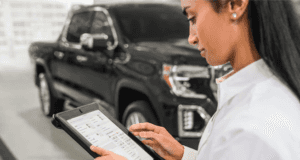 One of the best things you can do as a car owner to extend the lifespan of your vehicle is to have it regularly inspected. Car inspections can be quite complex and are often conducted for a multitude of different reasons but informing yourself of the intricacies of these procedures can help you stay protected and save money.
To help you learn more about car inspections, our team at LaFontaine Buick GMC Dearborn has compiled this list of FAQs.
Why Do I Need a Car Inspection?
Most states have rules regarding car inspections and require you to have your car checked out at regular intervals to make sure nothing is out of order and that the emissions your car produces fall within the legal boundaries. Getting a car inspection can also tell you if there are any hidden issues with the GMC parts in your vehicle.
How Often Do I Need to Get an Inspection?
The two biggest determining factors in how often you need inspections are the state you live in and the model you own. Here in Michigan, you only need to have your vehicle inspected if it's considered a "salvage vehicle", but many states have stricter guidelines that require more frequent visits.
What Gets Checked During a Car Inspection?
Once again, this largely depends on the service center that you visit and the state you live in. In general, you can expect our GMC service experts to check out your brake lights, tires, exhaust system, suspension system, taillights, and more.
What Happens If You Fail an Inspection?
If one or more of the systems in your vehicle fail our inspection, we can assist you in finding a replacement part. You can fail a state inspection for even a minor issue, so be sure everything from your lights to your brakes gets tested.
Visit LaFontaine Buick GMC Dearborn For More Info
If you need more information about car inspections in Michigan, stop by our GMC dealership serving Detroit, MI, today. If you end up needing any replacement parts, the experts at our parts center can help you find the perfect OEM parts that fit your model. Come see us today or schedule an appointment to learn more!