Winter Tires Vs. All-Season Tires – Which Should You Buy?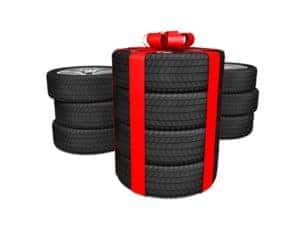 When purchasing tires for your vehicle, one of the best questions to ask yourself is, what type of tires do I need? At a tire shop, you'll be faced with the decision of which tire to outfit your GMC vehicle with – either winter tires or all-season tires.
This is a quick guide to what each tire does and what that means once you have them installed on your car.
Winter Tires
Winter tires have been specifically designed to provide the best grip and traction in cold weather conditions. This is accomplished in a number of ways:
The rubber compounds used to make the tire are designed to stay soft and supple even in cold conditions, providing optimal traction when temperatures drop
An aggressive tread pattern includes sipes that diffuse moisture and shoulder tread designed for lateral traction
Some, but not all, types of winter tires include studs for guaranteed grip in even the most extreme weather conditions
All-Season Tires
All-season tires are designed to provide competitive traction and grip in both hot and cool conditions.
The rubber compounds used in all-season tires are specifically designed to provide tread longevity and ride quality in both hot and cold weather conditions
The tread pattern on all-season tires is designed to provide optimal traction in both dry and wet weather conditions, but isn't as aggressive as winter tire tread
Which One Should I Get?
Choosing which tire is a question of trade-offs. These days, every type of tire is competent in most types of weather, it's just a question of which tire provides optimum performance and efficiency for you for the greatest amount of time each year.
Winter tires provide better grip and traction in cold and snowy conditions, but sacrifice efficiency and rubber longevity during warmer periods. They also don't provide optimal tread for traction in wet conditions.
All-season tires experience a drop-off in traction once temperatures dip below 40°, but they still provide traction – they're just not as effective as winter tires in snowy and slushy conditions.
It all depends on how much driving you do in snowy conditions. And remember, you can always get in contact with our team in the GMC service center if you need installation and advice on which type of tire is suited for your region.
Visit LaFontaine Buick GMC Dearborn for Your Next Set of Tires
Visit us at LaFontaine Buick GMC Dearborn to get your GMC or Buick vehicle outfitted with the right type of tires for you. Our GMC dealers are ready and waiting to guide you through the tire buying process and answer any questions you might have.